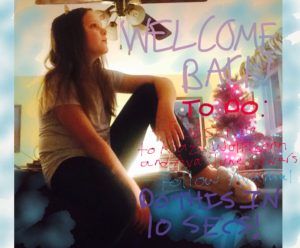 Hey guys, 8:16… sorry I got such a late start to the blog, but tommorow is la weekend, so you'll get an extra long vlog tomorrow! 
But guys… gretch isn't here this morning… she has a board meeting.
Her job is for COUNCIL FOR RESPONSIBLE NUTRITION and Friday's are usually her telework day 😪😰😭😿👎😬sorry, I tend to be extra when I use emojis!
So… YYYYYYYYYYYYAAAAAAAAAAAAAAAAAAAAAAAAAAAASSSSSS!
Oh la what a beautiful morning!
Oh, also… I did a voice memo draft of that "I Need A Reason" song… I'll hav to play it for u tonight!
Enuf with the goofing off… let's get some breakfast… yes we shall!
No lesdo an OOTD!!!!!!!!!!!!!
Curled the hair, into a pony!
Shirt: justice
Pants: h&m AGAIN! Lol
socks: amazon!
omg I feel like my clothes only come from justice, h&m or amazon lol…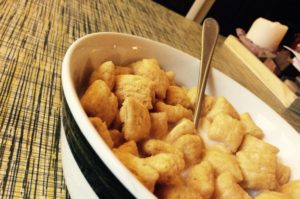 Since ma isn't here, just havin som cereal…
ok cu in class❤️…
9:59:
Hello guys, SCIENCE CLASS! All we hav 2 do is watch three videos on the periodic table…. Fun! I'll update you guys… SOON! YAYAYA!
12:36:
Hey guys, came back from lunch, SO GOOD! We had another wrongness contest, but we kinda backed out of it cuz… GUYS! We hav FLE TODAY! 🙁 I'm so sad… but right now, we're about to start math, and we're learning dividing mixed numbers… I'll hav 2 do a whole "What am I learning" in school soon, maybe tonight, but first, I HAV 2 DO MATH! So c u tonight, guys! I can't blog between 3 and 4 cuz of FLE :(! Bye <3 :):):)
Weee! Ma's coming home early! Currently 6:06, sorry I didn't blog earlier… and WE ALSO GETTIN PIZZA 2NITE! YASSSS! We had FLE… scarred me for life, we watched "Just Around the Corner" and I strictly recommend you TO NOT WATCH IT!
Anyways, I thought I'd show u guys, TESTING OLD SLIMES!… so… YESS! HERE. WE. GO.
Now let's do a get comfy with me OOTD!!!!!!!!!!❤️❤️❤️🐰🐰🐰😻😻😻😍😍😍🐵🐵🐵😝😝😝💩💩💩😺😺😺🐶🐶🐶😎😎😎
Hair down, hat from amazon (as u saw yesterday)
Shirt: RANDOM PLACE IN ARIZONA!
Shorts: JCPenney: finally something different!
Slippers: amazon❤️
Guys, I feel like Theo has been like, ULTRA luvin me, he followed me from when I was being lazy and YouTube Marathon Running to when I was testing old slimes, to typing this update… LIKE LOVE IT! YASS! Anyways, I'd better go give him some attention, cuz I don't want to leave him hangin, then we can go get the pizza… YASS!
Hey guys… 8:50, and we're watching The Glass Castle, so good… but so sad… just figured I'd end the blog post… but tommorow'S the wknd, so GET EXCITED! AAAH! Luv u guys so much! ❤️😝😽😍😻😀🐹🐶🐰🐾🐻🐵😎💩🐰🐰😘😘😘😘😘😘😝😝😝😝🤗🙀🙀🙀